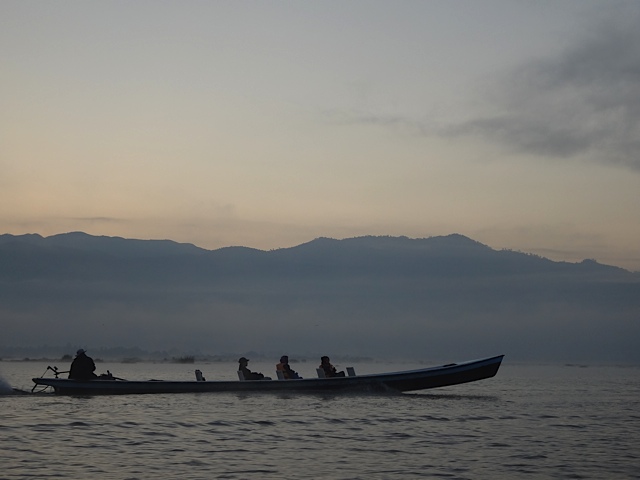 Above, a group of photographers head onto the lake before sunrise to catch the morning light.
The Open Hands Initiative is proud to announce that it has recently sponsored six young Myanmar photographers and photojournalists to take part in "Burma in Transition," a week-long photography workshop led by Gary Knight and Philip Blenkinsop in Myanmar (Burma). Gary Knight is a Co-Founder of VII Photo Agency, a Program Director at Tufts University, and the Visual Editor for the GroundTruth Project. Philip Blenkinsop is an award-winning photojournalist who has spent more than two decades working in Southeast Asia focusing primarily on covering human rights, conflict, and war.
Photo credits of the student work clockwise from top left: Htoo Tay Zar, Anna Biak, Soe Than, and Seng Mai.
The "Burma in Transition" workshop was set in the picturesque rural village of Nyaung Shwe—the ideal launching pad to explore and photograph the surrounding areas of the famous Inle Lake. From the Buddhist monastery where monks train cats to jump through hoops, to the floating markets, stilt villages, and friendly residents, the photographers captured the story of daily life in this unique location that has remained untouched from the outside world. As the country undergoes an historic transition, the Inle Lake area will be a testament to balancing economic development with the preservation of culture, identity, and the environment.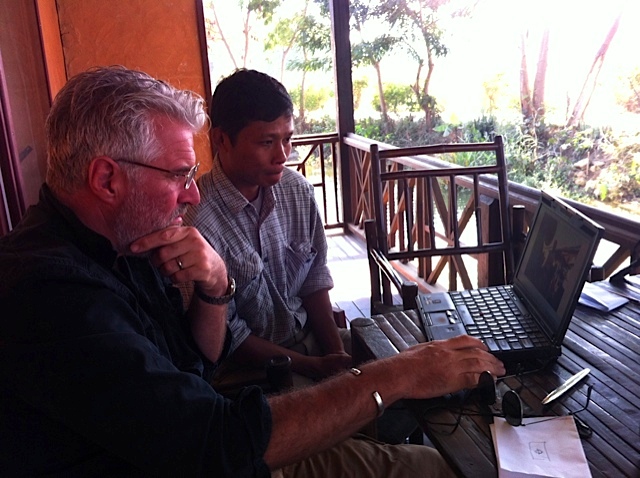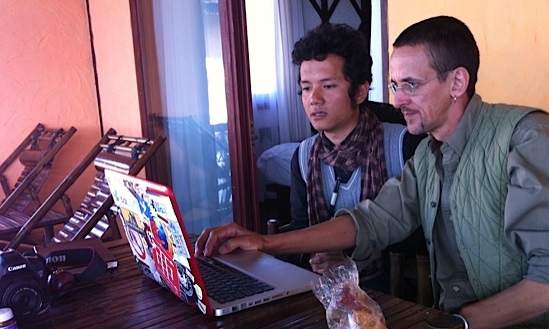 Gary Knight (above) and Philip Blenkinsop (below) analyze and critique the students' photos.
With one week to develop their story ideas and imagery in the field alongside industry veterans, the photographers had the chance to hone their artistic sensibility and storytelling craft. They also had to the opportunity to get daily, one-on-one feedback through editing sessions with Gary and Philip in order to quickly improve their technical skills—a priceless opportunity for beginning and advanced photographers alike. Even in a short time, dramatic gains were made.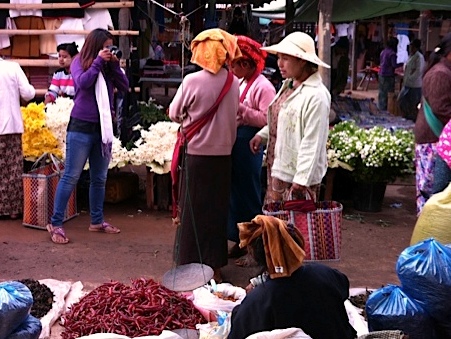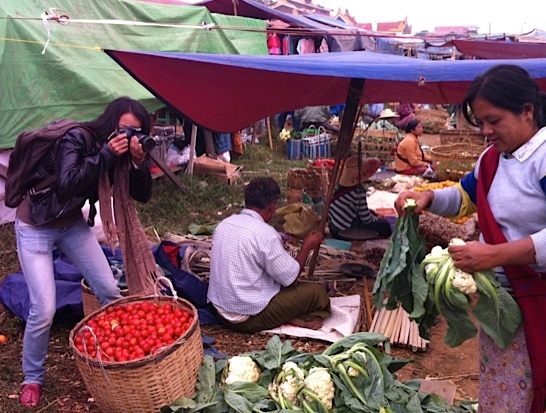 Anna Biak (above) scours one of Inle Lake's "floating markets" for emotions, while Lin Hnin Aye (below) tries to capture interactions between sellers and shoppers.
Not only did the workshop provide the students with invaluable lessons that they can apply in their careers, but it gave them the occasion to work side by side counterparts from the United States, Canada, Singapore, Thailand, the United Kingdom, the Netherlands, and elsewhere, furthering the goal of the Open Hands Initiative to encourage mutual understanding and respect between different cultures. At the final showcase of the students work, although it was clear that each photographer saw Inle Lake through his or her own distinct lens, collectively the group had much to share and learn from each other while uncovering the story of this pristine treasure in the hills of Myanmar's Shan state.
For more information about the workshop, please visit GaryKnightPhotography.com.