The Open Hands Initiative's Chairman and Founder, Jay Snyder, was honored at Job Path's annual benefit, which was held on October 17th at HBO headquarters in New York City. The yearly event serves as a way to help bolster this vital non-profit institution that aims to empower people with developmental disabilities.
"There's a job for everyone. There's a life for everyone." That is the slogan of Job Path, established in 1978 to encourage people with disabilities to become active members of their communities. It assists by connecting job seekers to employers, by helping people secure independent housing, and by inspiring people to pursue meaningful careers.
Tina Brown, chair of the benefit and an Open Hands Initiative Advisory Board Member, introduced the Chairman along with a special viewing of the Silver Scorpion trailer.
To close the evening, original "superhero" artwork was presented to Mr. Snyder by members of Imagination Quarterly, Job Path's new online literary journal. Below, Jason Waltuck explains how he chose heroes for his work, some of the world's most memorable real-life heroes and leaders, from Joan of Arc, to Gandhi, to Martin Luther King Jr.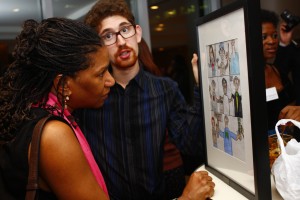 Jay Snyder admires the artwork below.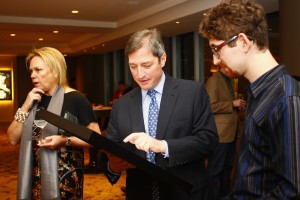 Jordan Walker, who produced his own superhero tableau said, "I'm glad I created something inspiring – seeing the presentation gave me the chance to see a picture of my own hopes and dreams."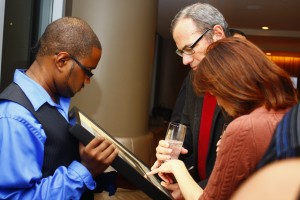 For more information on Job Path and its programs, please visit www.jobpathnyc.org.