The United Nations World Day for Cultural Diversity for Dialogue and Development provides us with an opportunity to deepen our understanding of the values of cultural diversity and to learn to live together better.
In 2009, when the Open Hands Initiative was founded, we wanted to create innovative platforms for ordinary citizens from across the globe to engage in meaningful dialogue. We wanted our programs to spark conversations and lay the groundwork that would lead the way towards greater international cooperation and friendship. In the six years since our founding, we've made thoughtful decisions to work with countries where there was a critical need to enhance understanding between the two countries. We bring young people from the United States and the countries in which we work together to work on issues that are transnational and touch on the values that are common to us all: health, inclusion, freedom of expression, and economic opportunity. Through our exchanges, we hope to build pathways for a more globally-minded and connected world.
Earlier this week, UNHCR special envoy Angelina Jolie Pitt warned against a "fear of migration" and a "race to the bottom" in extending an open hand to Syrian refugees. "If your neighbor's house is on fire, you are not safe if you lock your door." In an interconnected world, we are not safe from the troubles that knock on our neighbors' doors.
The conflicts in the Middle East, East Africa, and around the world have ramifications that go beyond those regions and across the seas. Often, the resulting violence can polarize our need to protect and our need to help. When we give into fear, we tune out dialogue and give into what Nigerian author Chimamanda Ngozi Adichie describes as the "danger of a single story": to show people as one thing – as only one thing – until that is who we believe they are, devoid of the complexity, dynamism, emotion, and humanness that is true of all people from all nations.
We hear it in the "anti-other" rhetoric that floods mainstream media. These kinds of messages and limited narratives prevent us from tapping into our common humanity and connecting as human equals.
At the Open Hands Initiative, we believe that open dialogue is the fulcrum to building peace. It's where understanding and change begin. An openness to cultural diversity exposes us to a myriad of perspectives and ways of living that can enrich our lives.

In 2010, under the auspices of local partner ECHO Musical Cultural Association and American producer Brian Unger, we hosted a musical exchange in Syria. The program provided training, the creation of new music, and a platform to connect Americans and Syrians who share a love for music. The hope was that our "Songs from Syria" could help expose Americans to the vibrant music of Syria and open up more pathways of engagement with the Syrian community.
Songs such as "Touta" by women's Takht or Longa or "Bala Harwashe" by Fattet Laabet provide an avenue to explore and experience the richness of Syrian culture, while lending nuances to our how we live our lives. They provide depth to our understanding of each other and the humanity that connects us.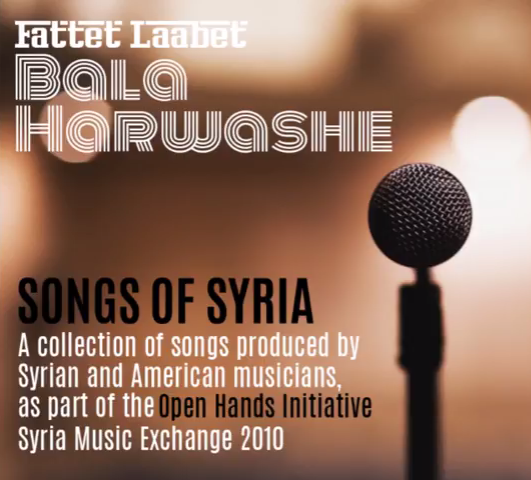 Around the world today, millions are fleeing their home countries because of armed conflict. These refugees are musicians, teachers, doctors, mothers, and fathers whose lives have been disrupted by war. On this World Day for Cultural Diversity for Dialogue and Development, let's think about how we can help them and how we can learn to live together better.
In solidarity with the Syrian community, where we have worked, we hope our "Songs of Syria" might be a first step in connecting you to the people of Syria.
Listen to the songs here.