The following entry is a guest post by Kim Badawi, a top, young journalist who participated in the "Covering a Revolution" journalism fellowship. This post is part of the "Where Are They Now?" series. Here is what he had to say about his experience in Cairo as a Reporting Fellow.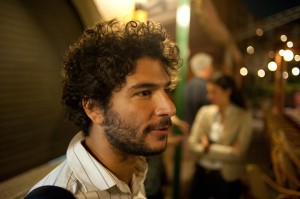 What is a memorable moment from your time participating in the fellowship?
The diversity of lectures, panels, and workshops made this a truly unique experience.
What did you take away from your interaction with the other Reporting Fellows?
This opportunity helped  further networking within the industry, it also gave a face to fellow journalists whom I was familiar with their work but perhaps had never met in person. It also gave me the opportunity to share experiences with colleagues I otherwise not have had the time to socialize with.
What are some of the misconceptions you had about Egyptians/Americans (depending where you are from)?
I am an Egyptian-American so if anything I felt as if I was sitting between two worlds. I wasn't always sure what side of the spectrum I was seeing from.
Where are you working now?
I am doing freelance for various international editorial publications worldwide.
What kind of projects are you focusing on?
I was just recently awarded the 2012 French American Foundation Immigration Journalism Fellowship and will be sharing my time between the African continent and South America.
Overall, what kind of an impact did this fellowship have on you and your career
I very much enjoyed working with everyone at Global Post and Open Hands Initiative, and especially appreciated the guidance of Global Post co-founder Charles Sennott and photographer Gary Knight.
To see examples of Kim Badawi's work, visit kimbadawi.com, or visit his collection of images shot for the "Covering a Revolution" Reporting Fellowship on GlobalPost.com, including his report on the camel drivers of Giza "In the Shadows of the Pyramids."